Writing / Calligraphy

In the enchanting "Valle dei Mulini" in Amalfi we produce paper with the same characteristics from the past, maintaining the originality which has made it famous around the world.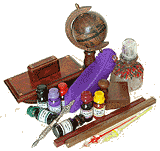 Calligraphy and desk products, seals, ink and sealing-wax.

Albums, books and address books with aged leather front covers. Reproductions of ancient bindings from the XV century. All handmade.