Craft items / Antiques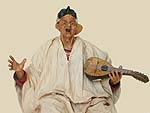 Around the world the mask of Pulcinella is the incarnation of Naples itself. His parody, irony and grimace highlight the neopolitan character. Pulcinella is traditionally guardian of the home, the work place and defends from bad luck and the evil eye. The head, the hands and the feet are made of terracotta. The clothes are made from old cotton.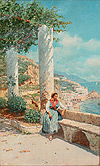 Paintings from the 1800s and 1900s, watercolours, bronze sculptures, prints, geographical maps, drawings, gouaches and ancient manuscripts on parchment. All products in the catalogue are complete with a certificate of guarantee stating the product's authenticity.